Warning
: mktime() [
function.mktime
]: It is not safe to rely on the system's timezone settings. You are *required* to use the date.timezone setting or the date_default_timezone_set() function. In case you used any of those methods and you are still getting this warning, you most likely misspelled the timezone identifier. We selected 'Europe/Berlin' for 'CEST/2.0/DST' instead in
/home/vhosts/diaryofcool.com/httpdocs/wp-includes/functions.php
on line
24
Warning
: date() [
function.date
]: It is not safe to rely on the system's timezone settings. You are *required* to use the date.timezone setting or the date_default_timezone_set() function. In case you used any of those methods and you are still getting this warning, you most likely misspelled the timezone identifier. We selected 'Europe/Berlin' for 'CEST/2.0/DST' instead in
/home/vhosts/diaryofcool.com/httpdocs/wp-includes/functions.php
on line
30
Warning
: date() [
function.date
]: It is not safe to rely on the system's timezone settings. You are *required* to use the date.timezone setting or the date_default_timezone_set() function. In case you used any of those methods and you are still getting this warning, you most likely misspelled the timezone identifier. We selected 'Europe/Berlin' for 'CEST/2.0/DST' instead in
/home/vhosts/diaryofcool.com/httpdocs/wp-includes/functions.php
on line
32
Friday, December 2nd, 2011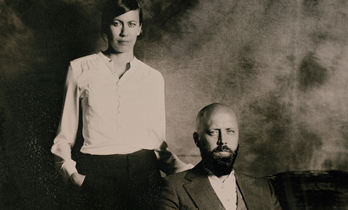 Hundreds is online net zo mysterieus als de muziek soms klinkt. Met de omschrijving "noises and sounds. flapping (flap flap). flickering. rhythmic. then clapping.

chuckling. rumbling. cracking." op Facebook en een wel heel dromerige toelichting op de eigen website ("the music of hundreds grows with every encounter, with every collision and contradiction. it breathes in all the free spaces that suddenly appear. It is as unseizable as the persons behind it. still it offers to hug everyone.") moeten we het doen. Het Duitse duo, bestaande uit broer Phillip en zus Eva Milner, waar we in februari al even aandacht besteedden, en nu het eerste volledige album uitbrengt, hangt het alom aanwezige talent nog niet bepaald aan de grote klok. Tijd dus voor een belletje richting Duitsland om onze Oosterbuurvrouw en -man eens aan de tand te voelen rondom hun LP 'Let's Write the Streets'.
[youtube]http://www.youtube.com/watch?v=d98dNmSzpCo[/youtube]
Hundreds blijkt een relatief nieuw project te zijn. Met allebei een klassieke scholing in muziek ("maar wees niet bang dat er Italiaanse opera in onze muziek verwerkt zit") kwam het bijna elk jaar jaar op z'n minst wel tot één nummer dat opgenomen werd. Maar, zo dacht Eva, als ik nu de keuze voor de muziek niet maak ga ik er over een jaar enorme spijt van krijgen. En dus zegde ze haar baan op en kwam de band officieel zo'n twee jaar geleden tot stand. De liedjes die ze altijd al wilde schrijven, en de muziek die Phillip altijd al in z'n hoofd had, vonden nu een plek in Hundreds. Invloeden zijn er van de triphop bands uit de jaren '90, zoals Portishead, Massive Attack en Lamb, maar van ook Bjork en Radiohead.
Tot op heden kunnen ze daar weinig spijt van hebben. Slechts drie maanden na de start werden ze benaderd door hun huidige management en nog eens drie maanden later stonden ze al op het podium. En in het afgelopen jaar kwam daar Europese tour bij die meer dan 100 plaatsen aandeed, waaronder een heel bijzonder optreden in IJsland. Om zich nog meer in de kijker te spelen deden ze SXSW en Eurosonic aan. Dat laatste festival was een bijzondere ervaring. Hundreds mocht openen op het grootste podium en stond voor een publiek dat vooral bestond uit bookers, die vaak maar een kwartiertje kunnen blijven en de zaal daardoor wat chaotisch kunnen maken. Dat is, gecombineerd met het feit dat er best wat op het spel staat, reden tot zenuwen. Maar zomaar voor 400 man optreden, daar wil je wel even je best voor doen.
Waar ondanks de naam 'Hundreds' de Milners in het begin van de carrière slechts met z'n tweeën en een laptop op het podium stonden, hebben ze nu een echte live-band. Eva: "zo'n laptop, dat vonden we eigenlijk maar niets. Nu hebben we twee drummers die in hun kits de samples geprogrammeerd hebben zitten. Dat is zowel voor ons als voor het publiek een stuk leuker en dynamischer".
Tot slot, een favoriet nummer uit het eigen oeuvre. Eva: "voor mij is 'Let's Write the Streets' het nummer dat het meest exemplarisch is voor wat we doen, en ik vind het nog steeds geweldig om live te spelen". En de toekomst? We gaan het zien. Het eerste album 'Variations', dat nu in de digitale winkels ligt, is een product van de eerst jaren van Hundreds. Wat er daarna gaat komen, is voor Eva en Phillip nog een vraag. Wat het ook is, wij kijken er naar uit.
[youtube]http://www.youtube.com/watch?v=qb0HGvEWIJc[/youtube]